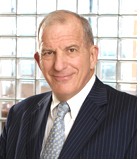 Stephen D. Susman
Founder
1943-2020
For decades Steve Susman was involved in law reform ranging from access to justice to saving jury trials. Because he was a pioneer in creating fee arrangements that compensate trial counsel for results rather than effort, Susman devoted his career to making public dispute resolution accessible by eliminating unnecessary expense in trying cases. In the mid-90s, as chair of the Texas Supreme Court Discovery Advisory Committee, Susman succeeded in having Texas adopt rules that limited discovery. In 1998, he was a member of the ABA's Task Force that wrote the original Civil Trial Practice Standards. Taking that one step further, Susman urged lawyers and courts to encourage the parties to agree upon their own rules to streamline trials and reduce expenses. He developed and maintained TrialbyAgreement.com, a website that allows counsel and judges to communicate about innovative discovery and trial protocols. He was a member of the Federal Circuit's Committee on limiting e-discovery and he co-chaired the trial committee of the SDNY's task force to implement a pilot project for expediting civil jury trials.
Most recently, Susman was on a crusade to save jury trials in civil cases. Susman was indoctrinated in the value of trial by jury while serving as a law clerk to Supreme Court Justice Hugo Black, unquestionably the Court's most staunch defender of juries in modern times. In 2015, Susman established The Civil Jury Project at NYU Law School. It is the only academic center in the country that studies why jury trials are disappearing, asks whether we should care and suggests things that could be done to reverse the trend. He served as the executive director of the Project and as an adjunct faculty member—all on a pro bono basis. The Project has 345 Judicial Advisors, 73 Academic Advisors and 43 Jury Consultant Advisors. It has held Jury Improvement Lunches across the country and publishes a monthly newsletter. Susman was a frequent lecturer on jury trial innovations at judicial workshops and bench/bar conferences around the country. He was a member of the Board and Judicial Nominations Committee of the American Constitution Society, the Democracy Alliance and chair of the Texas Future Project—politically active progressive organizations. He was a life member of the American Law Institute and served on the Judicial Evaluation Committee appointed by Texas' Senators to interview candidates for federal judgeships.

Hon. Mark Drummond (Ret.)
Executive and Judicial Director
The Hon. Mark A. Drummond (Ret.) was a trial lawyer for 20 years before serving 20 years on the trial bench.  As both a trial attorney and trial judge, he conducted written and oral surveys for each jury trial.  Through his work as a program director for the National Institute for Trial Advocacy (NITA), he trains trial lawyers on the most effective ways to present evidence to juries.  He has trained United Nations War Crimes Tribunal prosecutors at The Hague and in Arusha, Tanzania.  He has trained advocates for the U.S. Department of Justice, the Federated Bar Association of Japan, and the Beijing and Shanghai Arbitration Commissions.  He has trained advocates throughout the United States and overseas in Tokyo, Beijing, Shanghai, Tasmania, Tanzania, Vienna, Zurich, Frankfurt, the Inner Temple, the Middle Temple, New College Oxford, Keble College Oxford, Nottingham Law School, Scotland, Ireland, Kosovo, Macedonia, Myanmar and the Navajo Nation.  He was the program director for NITA teacher training in New York City.  He is the recipient of the Hon. Robert E. Keeton faculty award from NITA.  He is licensed to practice law in Illinois and has applied to practice law in New York.
Samuel Issacharoff
Faculty Director
Samuel Issacharoff's wide-ranging research deals with issues in civil procedure (especially complex litigation and class actions), law and economics, American and comparative constitutional law, and employment law. He is one of the pioneers in the law of the political process; his Law of Democracy casebook (co-authored with Stanford Law School's Pam Karlan and NYU School of Law's Richard Pildes) and dozens of articles have helped create this vibrant new area of constitutional law. In addition to ongoing involvement in some of the front-burner cases involving mass harms, he served as the reporter for the Principles of the Law of Aggregate Litigation of the American Law Institute. Issacharoff is a 1983 graduate of Yale Law School. He began his teaching career in 1989 at the University of Texas, where he held the Joseph D. Jamail Centennial Chair in Law. In 1999, Issacharoff moved to Columbia Law School, where he was the Harold R. Medina Professor in Procedural Jurisprudence. He is a fellow of the American Academy of Arts and Sciences.